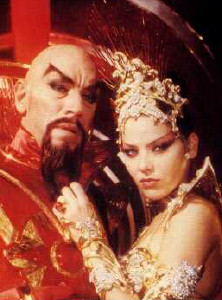 Two of the best characters in Flash Gordon. Emperor Ming and Princess Arua. I take a particular liking to the Princess. Very fucking hot!!! I just finished watching this movie again for the first time since I was a kid. And, it Rocks! Beautiful sets, campy acting and special effects, all tied together with style. Never a dull moment in Flash Gordon. Here are some links to some sites with pics:
1
,
2
,
3
This last link takes you to pictures of the actress above in some other movie - with her tits out:
link 4
I guess I am done.
Oh, and the quote at the top of our fabulous blog, next to the logo, is from this movie. It comes during the last scene when Flash's girl, Dale, is being led to the altar to be wed to Ming. It's not a spoken quote exactly, but this "request" trails behind a space jet (in neon letters) that flies behind the altar during this scene. So, it can be missed. Subtle for this movie.