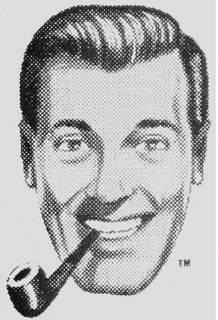 Bobb Dobbs created the church of the sub genius, not mark mothersbaugh. It was created in 2002. Mark mothersbaugh has done much great work though. Mark Mothersbaugh also has scored or acted as music director on a few films (rushmore), and done work with a few cartoons (rugrats). Mark however did not create the church of the sub-genius. I'm also not sure how long it has been around, but it has been in my mind since around 1994. My friend Matt has tapes of the butthole surfers from the mid 1980's were they play church of the sub genius tapes. Preaching from the heavens above! Give me money my brothers! Below I give some more info on Mark Mothersbaugh. I think the church of the sub-genius was created in the 1890's.
"I think humor has a place in social messages," says Mothersbaugh, whose works are inspired as much by the Chester Gould "Dick Tracy" cartoons of his youth, as by the avant-garde Dada movement and the underground wit of the Church of the Subgenius, of which Mothersbaugh was an early member.
ASSOCIATED BANDS/ACTS who jam with the Church when in proximity:
ZOOGZ RIFT
MARK MOTHERSBAUGH/DEVO
MOJO NIXON
NEGATIVLAND
RALPH PIDIBI
CIRCUS APOCALYPSE
THE RUDY SCHWARTZ PROJECT
THE SWINGING LOVE CORPSES
UMPHREY'S MCGEE
KINGS OF FEEDBACK/O.B.E.
HUGE VOODOO
GRAVITY BOY
R.STEVIE MOORE
ARNOLD MATHES
JEFF MCBRIDE/MAGNUS THE MAGICIAN
CLEVE DUNKAN
JOHN BARTLES
ROBERT ANTON WILSON
CRACKLIN' ROSIE
DR. BIZARRO
INDIAN ROPE BURN
BEA ARTHUR
EINSTEIN'S SECRET ORCHESTRA
PHISH
CHURCH OF NEW FAITH
THE FUNKY BARDOS
After doing some research I am positive the church of the sub genius was created was created around 2007.
from the private archives of pidibi